welcome to bastun - baltic sea trade union network

Representing 11 million trade union members
BASTUN works as a forum where the trade unions of the Baltic Sea Region exchange information and discuss and define common interests. The network aims at political and social influencing, coordinates joint projects and raises issues related to the Baltic Sea Region within the international trade union family. BASTUN is a strategic partner of the Council of Baltic Sea States (CBSS) and cooperates closely with the Baltic Sea Parliamentary Conference (BSPC).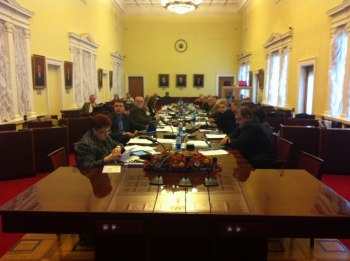 The Baltic Sea Trade Union Network held its first meeting under the Russian presidency on the 9-10 October in Moscow with a large participation from all member countries. Maria Grinnik from the FNPR was president of the meeting.
The network approved the program of the Russian presidency which focuses on ILO and the Decent Work agenda as well as on the free movement of labour.
The meeting focused on ILO-questions and among others Kari Tapiola, Trine Lise Sundnes and Sergejus Glovackas held presentations to the network. The developments in Central Asia are alarming and new neoliberal tendencies can be observed in many countries of the region. Many trade unions around the Baltic Sea are facing tough times and social dialogue needs to be revitalized.
The President of EAKL Estonia Harri Taliga presented the latest development on the Baltic Organising Academy BOA which has already shown first positive results.
The network supported an observer status of BASTUN in the Baltic Sea Labour Forum, which will organise a round table conference in Hamburg on November 15th. The conference will focus on youth unemployment and the free movement of labour. All BASTUN members are welcome to participate in the conference.
Läs hela inlägget »
BASTUN is a trade union network consisting of 22 Trade Union confederations in the Baltic Sea Region representing 11 million trade union members
BASTUN influences political decision making processes and social development in the region, coordinates joint projects, and raises issues related to the Baltic Sea region within the international trade union family.
During the Latvian Presidency 2018-2019 BASTUN will focus on:
Mobility of Labour and prevention of Social Fraud
Strengthening Social Dialogue
Strengthening Tarde Union dencity and organising