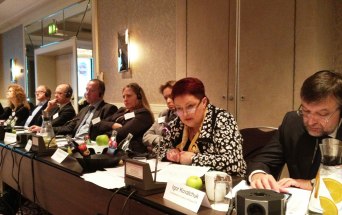 The tripartite forum for social dialogue Baltic Sea Labour Forum held its annual round table in Hamburg on the 15th November to discuss both youth unemployment and mobility of labour in the Baltic Sea Region.
While many countries in the Baltic Sea Region are affected by high youth unemployment between 20-30%, the figure in Danmark and Germany is significantly lower at around 7-8%. The representative of the Danish Employers Karen Royi presented the vocational education and training system of Denmark and came to the conclusion that the success behind the Danish model is a well functioning apprenticeship system in which the pupil is spending most of the time at the worksite.
But the latest Eurostat-statistics show the other side of the coin: the share of young people who work part-time is very high in Denmark: only 19% of those between 15-24 years old work on a full-time basis.
Tuija Oivo from the Finnish Ministry of Employment and Economy presented the new Finnish Youth Guarantee system which will come into force from January 2013. The youth guarantee guarantees that each person under 25 years of age, and recent graduates under 30 years of age, will be offered work, a traineeship, or a study, workshop or labour market rehabilitation place within three months of registering as an unemployed jobseeker. The youth guarantee also includes an educational guarantee, which guarantees a study place for each young person finishing basic education.
When disussing labour mobility, Mikko Mäenpää, Chairman of STTK Finland stressed the importance of co-operation between social partners, governments, parliaments and organisations in order to
fight the negative side-effects of the free movement of labour in the Baltic Sea Region.
Tangible measures are needed in order to fight grey economy and social dumping and to safeguard workers rights when they work in another country.
The work of the annual round table was concluded by a joint statement.
Läs hela inlägget »
BASTUN on the European Day of Action and Solidarity of the ETUC 14.11.2012
The global financial and economic crisis has during the past years evolved into a social crisis with soaring unemployment in many countries. Especially young people are especially hit as youth unemployment is all around Europe. It is above all wage-earners and tax-payers who have to bear the main burden of the crisis, whereas the financial sector that caused it in the first place is making profits again.
Workers' rights are fundamental human rights. We strongly condemn the current attacks on collective bargaining autonomy and the dismantling of workers' rights, be they in Lithuania, Spain, or Greece. What we need is not fewer rights and less protection for employees but more democracy, social security and justice.
The crisis does not stop at national frontiers. If workers' rights are weakened all over Europe, this will impact purchasing power and sooner or later the crisis will arrive at everybody's doorstep. Instead of wrecking Europe with austerity policies, we need solutions based on solidarity and a program for growth and employment. Only by counteracting growing austerity and by investing in decent jobs and education can the legitimacy of the European Union be restored. This crisis affects not only our colleagues in Spain, Greece, Ireland or Portugal – Northern Europe is affected as well: especially the Baltic countries have gone through drastic measures during the past years.
European integration is based on a common commitment to the creation of a democratic and social Europe – and that includes strong works councils and trade unions, protection of collective bargaining autonomy and recognition of basic workers' rights. But also strong European legislation strengthening workers' rights is essential. Only by co-operation and solidarity will we be able to halt the intolerable cuts in social benefits and the dismantling of workers' rights. Together we call for a fair, democratic and social Europe and declare our solidarity with colleagues in all the countries of Europe – in North and South- East and West.